[Musealia : Manuscript of La Dernière Bohémienne by Fanny Reybaud]
Every month, Sorbonne University invites you to discover an object from its heritage collections. This month, discover the mnuscript of La Dernière Bohémienne by Fanny Reybaud
Henriette Étiennette Fanny Arnaud, later Reybaud, (1802-1871) was a French novelist born in Provence and married to the politician and writer Charles Reybaud. A friend of Adolphe Thiers and rival of George Sand, she published eleven novels in the Revue des deux Mondes which met with some success. Through books such as Mademoiselle de Malepeire, Mézéhé and Les aventures d'un renégat, she gained international recognition, both in Belgium and across the Atlantic.
Although her works are not considered regionalist, they nevertheless evoke ancient Provençal customs and southern landscapes (the Fête de la Saint-Jean in L'avocat Loubet). In her studies of manners and later in her historical novels, she depicted female sensitivity in an elegant and measured style.
La Dernière Bohémienne (1853), published in partnership with the publisher Buloz, is set in Brittany. Fourteen editions of this text were published between 1853 and 1860 in French. This manuscript is a valuable source for textual genetics, as it contains strikethrough areas and marginal corrections.
This novelist, who has fallen out of favour in the collective memory and whose style is considered less vigorous than that of George Sand, possesses undeniable literary qualities: this manuscript is an opportunity to rediscover them, for "her work can offer those curious about the Provençal past original and engaging elements for reflection; and her style retains an astonishing appeal".[1]
The manuscript of La dernière Bohémienne was offered in 1867 by Doctor Melchior Yvan (a politician who joined the cabinet of Prince Napoleon and was an inspector of printing and booksellers) to Madame Gustave Arlès, the wife of François-Gustave Arlès, a silk industrialist and member of the Société d'économie politique de Lyon. It is possible that it was bequeathed to the Institute of Provençal Studies of the Sorbonne, which became the CEROC (Occitan Teaching and Research Centre) in 1952, and now the BLOR (Occitan and Romance Language Library) because of its author's link with Provence.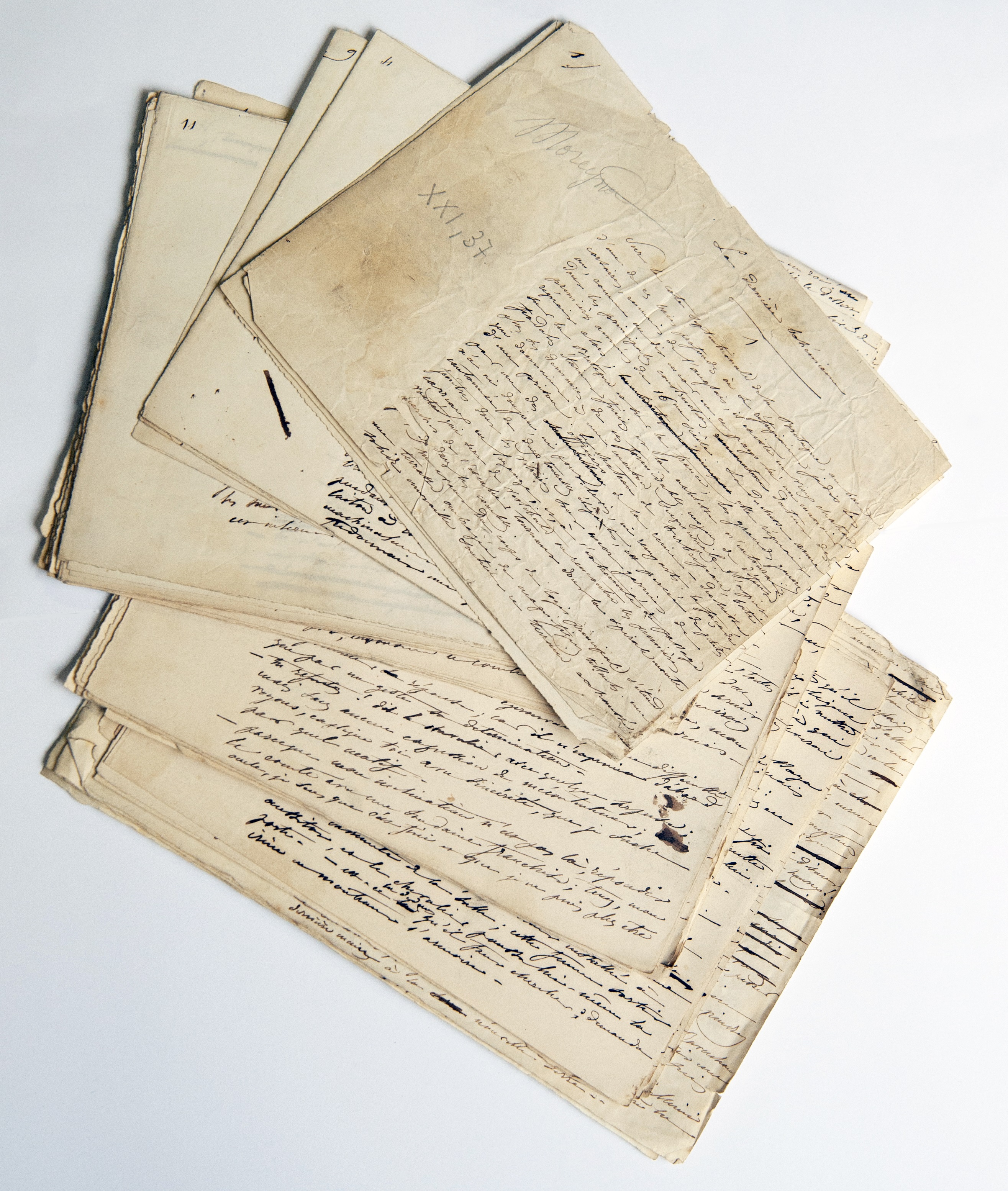 [1] Yvonne KNIBIEHLER, "Fanny Arnaud-Reybaud, Romancière provençale", published in Provence historique, booklet 164, 1991, p.115
By Marine Douchin, library assistant of the départment of French Language (SU).
Data sheet

Name : La Dernière Bohémienne, de Fanny Reybaud
Type : manuscript
Call number :

1 EM

Measurements : 77 pages (gaps between pages 73 and 175) - 16 cm high and 20 cm wide
Date : 1853
Place of storage : Library of Occitan and Roman linguistics (BLOR)
Bibliography
Fanny REYBAUD, La Dernière Bohémienne. Paris : Hachette, 1856, avaible on Gallica : https://gallica.bnf.fr/ark:/12148/bpt6k64980412
Yvonne KNIBIEHLER, « Fanny Arnaud-Reybaud, Romancière provençale », in Provence historique, n°164, 1991 : https://docplayer.fr/42114436-Fanny-arnaud-reybaud-romanciere-provencale.html
Les écrivaines-jοurnalistes sοus la Mοnarchie de Juillet : la presse au service d'une recοnnaissance littéraire, Lucie RICHARD ROUSSEL, Université de Caen, 2018 : https://tel.archives-ouvertes.fr/tel-02152034/file/sygal_fusion_27490-richard_roussel-lucie.pdf
Find here all the articles of Musealia.