Geology collection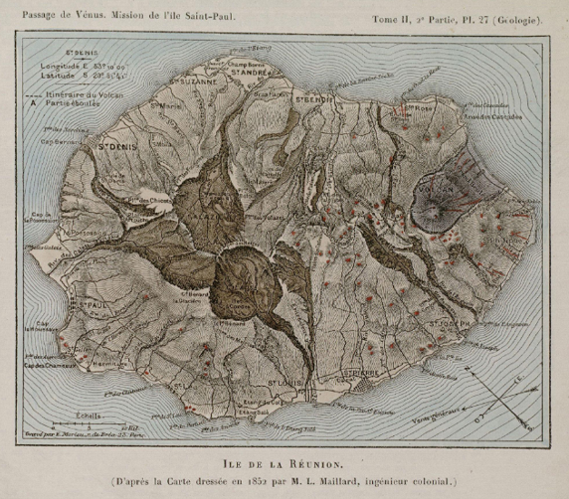 Charles Vélain, mission de l'île de Saint-Paul : recherches géologiques faites à Aden, aux îles Saint-Paul et Amsterdam, aux Seychelles, 1879 (fonds histoire de la géologie)
The Geology collection proposed on SorbonNUm comes from the former CADIST of Earth Sciences, which became the Geosciences library (of which several collections are labelled CollEx), from several laboratories and laboratory libraries (the Sorbonne geology laboratory, known as the 'Lucas collection', the vertebrate palaeontology laboratory, the petrology laboratory, the IMPMC library, etc.) and from the personal libraries of professors (Hébert, Vélain, etc.).
The collection includes periodical publications of the Geological Society of France, founded in 1830 (Memoirs and Bulletin of the Geological Society of France), as well as a set of texts testifying to the variety of the French geological heritage: travel accounts, lecture notes, theoretical works, bibliographical materials (Titles and Works), illustrated descriptions... all documents collected by specialists in the history of geology.
History of geology
The collection of texts on the history of geology consists mainly of printed monographs in French, a few offprints and two manuscripts, ranging from the end of the 18th century to the beginning of the 20th century. The most represented fields are of course general geology, theories of the earth, palaeontology, stratigraphy and mineralogy.
This collection brings together a set of founding texts in the history of earth sciences and their teaching, tracing the birth of the discipline and its first developments.
Regional geology
The corpus presented was compiled by several research professors from Sorbonne University , reflecting the diversity of France's geological heritage. The books present descriptions, maps, indexes and illustrations representing all the French regions, and constitute a memoir of the territories.
SGF publications
The statutes of the Geological Society of France, founded in 1830, state that its aim is "to contribute to the advancement of Earth and Planetary Sciences, both itself and in relationship with industry, agriculture, the environment and education". Recognised as a public utility in 1832, the SGF published the 'Bulletin de la Société géologique de France' from its creation and, from 1833 onwards, the 'Mémoires de la Société géologique de France', publications which continue to this day. The digitisation of these journals was carried out on the old volumes of these titles, kept in the Geosciences library.
Finally, the Mémoires de Paléontologie were created in 1890, and merged with les Mémoires in 1924. They contain 59 separate issues, with photographic plates of original samples (organisms, fauna, flora).